Halloween decorations have been in the stores for a while now, and I'm starting to see dog costumes as well. I've been known to dress up a dog or two to scare the locals, and as much fun as that day is, we also have to make sure it's safe for our furry family members as well. I just want to add, even though this article is about dog safety, these tips will keep your cat safe as well.
Keep chocolate and candy away from all pets, put candles out of reach, and make sure your dog's costume is well fitting, without strings or ribbons that can be chewed off and swallowed.
Keep in mind, senior dogs, especially those experiencing health challenges and anxiety, can take longer to recover from the disruption to their routine and added noise.  
**There are affiliate links in this post, so if you buy something I may receive a commission. This has no effect on the price for you.**
Leave Candy Outside or Out of Reach
If you don't have any way to keep the goodies out of reach, it's best to leave them outside. Dogs (and especially cats who are a lot more agile) can become quite creative when they want something slightly out of their grasp.
We all know how deadly chocolate can be, but wrappers are dangerous as well as they can create a choking hazard. Ask everyone in the house to try and keep an eye on the floor, and if they see candy, chocolates or wrappers to please throw them out right away.
Fire Hazards
Lit pumpkins or candles in the house are an accident waiting to happen. Any dog can easily knock them over and get burned and/or cause a fire. If your dog has vision problems, is totally blind or even wandering due to dementia for example, the chances of something bad happening are even greater.
Keep the pumpkins outside and candles out of reach, or use ones with fake flames.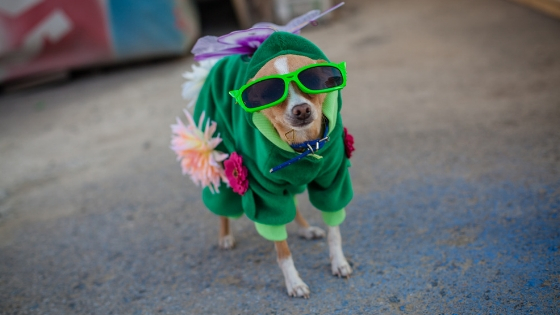 Advise "Trick or Treaters" Not to Ring the Bell
If your dog is prone to anxiety, and you think it will be too stressful for him to listen to the doorbell ring all evening, here's a solution! Put a sign on your gate asking people not to approach the door because your dog isn't well, and leave a table outside with bowls of candy, inviting them to help themselves.
Be Careful of Door Dashers
Your dog may be able to sit in front of an open door and never run out, but please don't assume he'll be able to resist on Halloween night.
I suggest you either keep him on a leash tethered to someone at all times (meaning the leash is attached to a belt or belt loop), or put up a baby gate so he can see what's going on, and still be safe.
Provide a Safe Hiding Place
Doorbell ringing, screaming children and scary costumes can all be a bit much for your dog, especially an older one! Keep him calm and safe by creating a nice hiding place.
You know your dog best, so decide how far away from the action he needs to be in order to be "okay." Some may need to go in a back bedroom with the door closed or a baby gate up, while others would be okay in a crate closer to the action. Draping a cover over at least a couple of the sides can help.
Make sure he has a comfortable bed, water and a favourite toy. Dog TV or calming music can also help.
Hosting a Halloween Party
A young dog can certainly find all the music and people overwhelming, imagine how an old dog would feel.
Provide a safe place as I mentioned above, or have him spend a few hours at the home of a trusted family member, friend or neighbor.
If you're comfortable having your dog join the party, warn everyone not to feed him. I know it's hard for some people to resist, but let them know about the dangers of pancreatitis caused by fatty foods.
Relaxation Aids
Whether your dog will be loose in the house or relaxing in an out of the way spot, here are a few relaxation aids that can help keep him calm.
Calming music such as Through a Dog's Ear or others available on Youtube
Rescue Remedy
Adaptil plug in (this has to be plugged in where your dog will be spending most of his time, at least a week or two before Halloween)
CBD oil, Valerian, Valerian with Skullcap, or calming chews
Don't Force Your Dog to Be Part of the Festivities
I know you want everyone to see how cute he looks, but too much attention can be overwhelming. If he doesn't like or want it, let him go and be.
Costumes – Yours and Theirs!
If you're planning on dressing your dog up this Halloween, here are some things to think about:
♦ Don't just dress him up and leave him unattended, because he may not be happy wearing a costume. Some dogs won't even tolerate a sweater or coat, and that's for warmth!
♦ It should be loose enough so it's comfortable, but not so loose he can get tangled up in it.
♦ No beading, bells or dangly items that can be chewed off and cause a choking hazard.
♦ Make sure it doesn't restrict breathing, or the ability to bark.
♦ Take it off if he's miserable.
If you know your dog will never wear a costume but you still want him in the holiday spirit, how about a Halloween themed collar, leash or bandana? Jack was less impressed the last time I put a costume on him, but he's more than happy to wear a fancy collar or bandana.
Something else to consider – how do you think he'll react to seeing you in a costume? I suggest you try it on before the night and see what happens. Rather than trying the whole thing on at once, especially if it involves a wig and lots of scary makeup, try exposing him to it a little at a time. One day wear the wig, another just the costume. Give him lots of treats so he sees something great happens when you're dressing up.
Walk Your Dog Before Dark
I know you like to keep your dog on a schedule, but this is one night you'll want to be more flexible. Take him for a nice long walk long before the trick or treaters come out, then another once things have gone quiet. The last thing you want is for him to be spooked.
Keep Your Dog in the House
Even if your dog loves to spend evenings in the backyard, Halloween night should be an exception. Vicious pranksters have been known to tease, injure, steal, and even kill pets on that night.
Check ID is Up to Date
Now is the perfect time to check the contact details on his collar, tag and/or microchip are up to date. If he's not microchipped yet, now is a good time to do it.
No matter how careful we are things happen and if, heaven forbid your dog gets out, you want to do everything possible to increase the chances of him being found and returned quickly.
Have a List of Numbers Handy
I always recommend having important phone numbers like poison hotline, 24 hour emergency hospital and of course your vet, in an easy to reach place that everyone knows about. If your dog does eat something he shouldn't have, or you even suspect he has, knowing who to call can be the difference between a happy outcome or a sad ending.
Finally…Don't Get Mad at the Dog
With everything going on, it's possible your dog will act up or be uncharacteristically naughty. He's just reacting to what's going on around him. Don't get angry or frustrated, none of this is his fault.
There you have it. My best dog safety tips to help make your Halloween as fun for everyone as possible. What's your best tip? Sharing helps others, so let us know in the comments section below.